French, Premiu, Tier VI?, Light Tank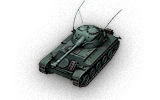 This icon and picture were supertest Leaks.
The in-game description was also leaked: A modification of the AMX 13 with the Panhard EBR turret. The vehicle did not have an automatic loading mechanism. The vehicle was intended to fight in Indo-China. Five vehicles were built in 1954.