French, Premium?, Tier?, Tank
Destroyer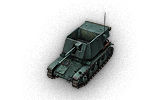 This icon and picture were supertest leaks.
Although it was a German designed tank; since it was based on the Renault R35 it will be in the French tree.
The in-game description was also leaked: The company Alkett converted 174 captured R35 tanks into tank destroyers, designated 35R and equipped with the 4.7 cm PaK 36(t).