German, Premium / Reward, Tier IX, Medium Tank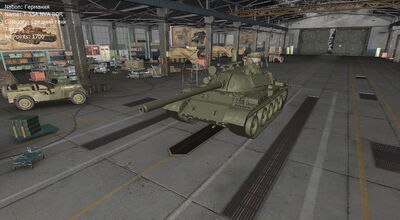 East German T-55, possibly a premium reward tank.
In-game desciption: The T-55A is an improved variant of the T-55 tank. It differs from the T-55 by the absence of the AA machinegun and improved WMD protection. Roughly 1800 T-55 and T-55A tanks were exported from USSR to DDR between 1962 and 1970.
Statistics
Edit
Hitpoints: 1700
Weight: 37,5 tons
Engine power: 580 hp
Power-to-weight: 15,46 hp/t
Maximum speed: 50/20 km/h
Terrain resistance: 0,767/0,863/1,438
Hull traverse: 50 deg/s
Viewrange: 395
Radiorange: 730
Armor – hull: 100/80/45
Armor – turret: 200/160/65
Gun: 100mm Panzerkanone D-10T2S L/56
Penetration: 201/330/50
Damage: 320/320/420
DPM: 2524
Reload time: 7,384s
ROF: 7,89
Accuracy: 0,33
Aimtime: 2,1s
Depression: -4,3
Turret traverse: 46 deg/s